Crossover Design
The Hyperion utilizes a basic parallel crossover network in a 4th order Linkwitz-Riley configuration. During the design phase I also came up with a series version which approximates the parallel network with similar slopes and crossover point. The sound is very similar between the two designs but there are a few minor differences. The parallel network seems to have a more focused center image while the series network provides a more spacious soundstage. With regards to tone the two designs are almost identical. In the end I chose the parallel network primarily because it uses fewer parts overall.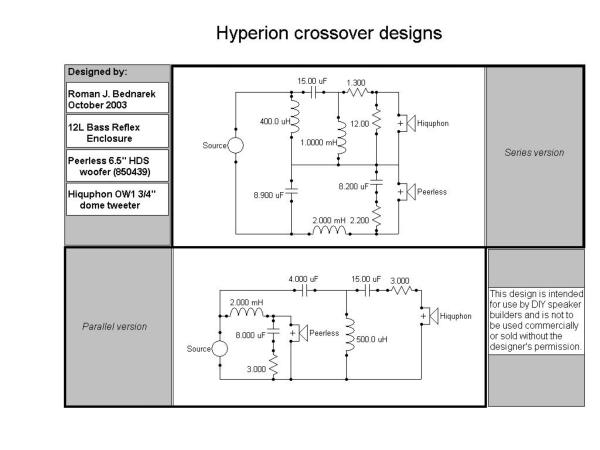 Performance
Below is a plot of the ungated farfield response for the Hyperions. This measurement includes the effects of room reflections which appear below 500 Hz and result in exaggerated peaks and dips in the response. Overall the response is pretty flat, within +/- 2dB across most of the frequency range. The dips and peaks in the 2-5kHz region are primarily due to cabinet diffraction effects and are less severe off-axis. Their efficiency is around 85dB at 1 meter which is average for a typical two-way design with extended bass response.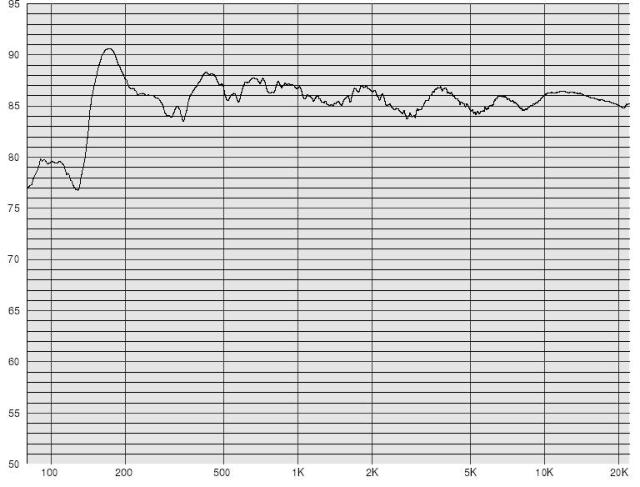 The Hyperions are a great all-around performer and sound great with just about any type of music. The Hiquphon OW I tweeter is exceptional and provides a very spacious and airy top-end. The Peerless HDS woofer is surprisingly clean and detailed considering it has a poly-based cone. They don't have the detail of a stiff cone (aluminum, magnesium, etc.) but this makes them sound great will all source material because they are not over-analytical and don't reveal every little defect in the recording. Despite the excellent value and performance that the Peerless HDS driver provides, I tend to prefer the added detail and depth that the Vifa XT woofer offers in the Asterion design. Imaging is decent but not as nice as the Proteus jrs. A complete pair of Hyperions can be built for just under $500 which isn't bad considering their exceptional performance.

Speaker Workshop Project File

The Speaker Workshop project file for this design is now available for download: Hyperion.swd. This project file includes gated measurements for the drivers at different listening axes (TA stands for "Tweeter Axis" and BT stands for "Below Tweeter"). There's also a crossover network simulation based on measurements taken on axis with the tweeter. The file is about 3.7 MB so be patient if you have a slower connection.