"Teachers open the door. You enter by yourself."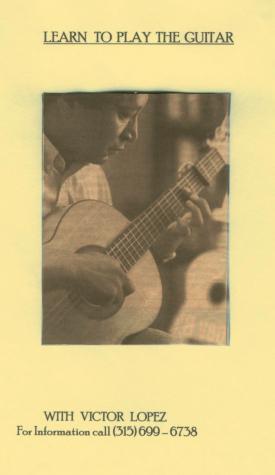 Victor teaches guitar for students of all skill levels from beginner to advanced. He focuses on developing the student's abilities to read music which allows him to build a foundation based on music theory specifically tailored to playing and performing on the guitar. A student that knows how to read music can learn from what others have written. Music theory gives the student the ability to analyze previous works as well as develop songs of their own. He has taught several students who knew nothing about the guitar and helped them to develop into impressive performers. Some of the musical styles that Victor specializes in include Classical, Flamenco, Folk, Blues, Rock and others. His lessons in Classical guitar include studies by Sor, Aguado, Careasi, Guliani, Torrega and others. For Rock, Blues and other related genres, he focuses on playing in groups and covers a wide range of guitar types including acoustic, electric and bass.
Prices:

Half hour lesson: $15.00
One hour lesson: $25.00
Lessons are typically structured in weekly intervals. Although he recommends weekly lessons to maintain continuity, he also offers bi-weekly lessons on request.