Victor has performed in the Central New York area for several years and has developed a strong following. He is considered by many to be the best finger picking style guitarist in the area. He is comfortable playing several different music styles including Classical, Flamenco, Folk, Spanish, Caribbean, Mexican and many more. Some of his musical influences include Andreas Segovia, Sabicas, Trio San Juan, Trio Los Antares and others. His unique music styles and exceptional talent make performances of his caliber uncommon in Central New York. The complexity of some of the music he plays is beyond the capabilities of most guitarists in the area and as a result he tends to draw a lot of attention wherever he plays. He is particularly talented in Classical and Latin music styles, although he can play almost anything due to his strong music reading skills. He has even written several of his own songs. Check out some of his music samples to hear for yourself, I'm sure you'll be impressed.
Performing Environments
Below is a list of some of the environments that are well suited to Victor's music style and abilities. He has experience in all of these settings and will gladly offer his services upon request.
Weddings:



Capable of performing at the reception and the service. Style of music will vary from Renaissance to Modern. Also can perform in Latin, Folk and Rock style or any of the styles previously mentioned above. With enough time ahead of activity he can do musical pieces that are requested including both lyrical songs and instrumental pieces.



Private Parties:



Will perform at private parties where he can supply background music and do repertoire solos



Coffeehouses:


Restaurants:


Ethnic Festivals:


Art Exibits:


Universities:


Churches:



Previous Performances
Below is a list of venues and events that Victor has demonstrated his talent as a guitar performer.
Landmark Theatre


Everson Museum (4 consecutive years)


Syracuse Latin Festival at Clinton Square


Hendricks Chapel (Virgin of Guadalupe)


Burnet Park Zoo


Clarkson University


Syracuse University


Cazenovia College


Onondaga Community College


La Bamba - Mexican Restaurant (4 years, weekly)


Sweet Babas


Happy Endings Coffeehouse


Aromas Coffeehouse


Below are some clippings of some of Victor's previous performances in the Syracuse area.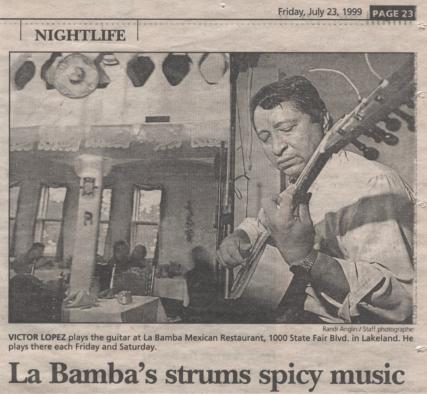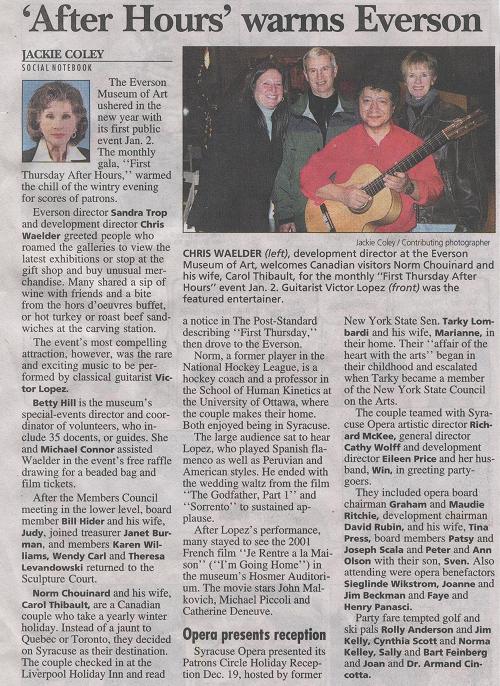 Victor has also been featured on various radio and television shows and has performed both nationally and locally. Listed below are a few links to web sites featuring Victor from previous events and interviews. Click the title to check out the link. Contact him and he will gladly try to meet you needs and perhaps your event will be added to his long list of performances.